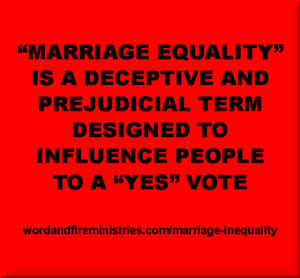 Australians are being asked to say whether they want the Marriage Act changed to allow same-sex couples to marry. This is being done in the name of "Marriage Equality." However, "Marriage Equality" is a deceptive and prejudicial term designed to influence people to a yes vote.
THE TRUTH IS, WE ALREADY HAVE – AND ALWAYS HAVE HAD – MARRIAGE EQUALITY. THE SAME RULES ABOUT MARRIAGE APPLY TO ANYONE.
Any homosexual person already has the right to get married. The only condition is that, like everyone else, he or she must marry someone of the opposite gender. That's equality: the same rules apply to everyone.
"That's not what we mean," the homosexual lobby yells. "We want the right to marry whomever we choose."
THE TRUTH IS, NOBODY HAS THE RIGHT TO MARRY WHOMEVER HE OR SHE CHOOSES.
A man may not marry his sister, no matter how much he loves her. You may not marry your mother or your father. You may not marry someone who is under the legal age. You may not marry someone who is still married to someone else, no may you marry someone else whilst you are still married to another person. In all these cases, "love" is not the determining factor, law is. That's equality: the same rules apply to everyone. Interestingly, almost all these laws are taken from the Bible, and for the most part society accepts them quite happily as the best way to order our relationships.
What the homosexual lobby is seeking is not marriage equality, but marriage inequality – preferential treatment that changes the rules just for them.
Save